Whiskey Hot Chocolate Recipes
Nothing's better than cozying up with a cup of hot cocoa on a chilly winter day. There is one thing that can make it better though… whiskey! If you've ever wondered if adding whiskey to your hot cocoa would be a good idea, we're here to tell you it's a great idea! Adding Bird Dog Whiskey to your hot chocolate is the perfect way to bring out extra flavor, warmth, and to help brighten up these cold winter nights.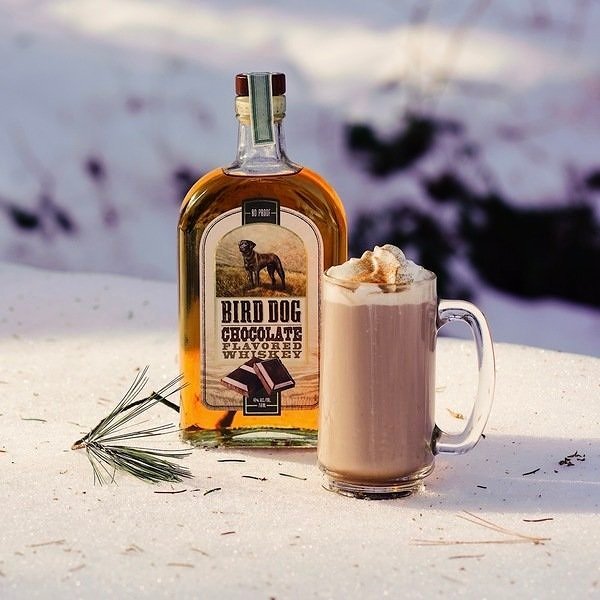 WHAT TO MIX YOUR HOT COCOA WITH
BIRD DOG BOURBON HOT CHOCOLATE
This one is a classic. If you're looking for some extra warmth on a cold day, this is the perfect cocktail for you. Try it with our 7-year-old small-batch Kentucky bourbon or our 84 proof Kentucky straight bourbon whiskey. Our bourbons are aged in small batches, the way bourbon should be. Our 7-year-old small-batch Kentucky bourbon has light undertones of honey and golden raisins, while our 84 proof Kentucky straight bourbon whiskey features accents of spice and light bursts of honey. If you're in the mood for a little extra sweetness, we recommend adding some marshmallows or chocolate shavings on top.
PEANUT BUTTER FLAVORED WHISKEY HOT CHOCOLATE
Name a more iconic duo than peanut butter and chocolate… we'll wait. Bird Dog Peanut Butter Whiskey will make this hot chocolate go down extra smooth. It has aromatic vanilla and caramel undertones that round out the nutty flavor for a slow, warm finish. Try topping it off with some whipped cream and mini peanut butter cups.
CHOCOLATE FLAVORED WHISKEY HOT CHOCOLATE
This one is for the true chocolate lovers out there. What could make hot chocolate taste better than adding more chocolate? Bird Dog Chocolate Whiskey is the perfect addition to your hot cocoa if you're looking for a delectable treat. It has notes of rich cocoa along with more subtle notes of vanilla and caramel. We recommend topping it off with some fresh whipped cream and a dusting of cocoa powder.
SALTED CARAMEL FLAVORED WHISKEY HOT CHOCOLATE
Adding Bird Dog Salted Caramel Whiskey to your hot chocolate will give you the perfect sweet and savory beverage experience. This whiskey is a real crowd-pleaser. It has signature caramel notes complemented by subtle hints of sea salt keeping the sweetness at bay and highlighting vanilla and oak undertones. To really bring out the salted caramel flavor, add sea salt rim to your glass.
THE RECIPE:
HOMEMADE HOT CHOCOLATE
We won't judge you if you use store-bought hot cocoa, but here's our favorite way to make homemade hot chocolate!
What you need: (1 Serving)
1 cup milk of your choice (this will make it creamier than using water)
1 tablespoon unsweetened cocoa powder
1 tablespoon granulated sugar
2 tablespoons chocolate chips
1-2 drops of vanilla extract
How to:
Add the milk, cocoa powder, and sugar into a small saucepan.
Heat over medium/low heat, whisking frequently until the mixture is warm.
Add the chocolate chips and continue whisking until they are dissolved into the mixture.
Whisk in the vanilla extract.
Add 1.5 oz. of the Bird Dog Bourbon Whiskey or Flavored Whiskey of your choice. (Or make it a double, we won't tell!)
Serve immediately and enjoy! If you were wondering what could possibly make hot chocolate any more delicious, now you know! We encourage you to do some experimenting of your own with Bird Dog Whiskey to make spiked hot chocolates! A few other flavors we would recommend to try with hot cocoa are our Hot Cinnamon, Maple, or Praline Flavored Whiskeys. Check out our variety of flavors here and pick out what you think would be the best pairing. If you try any of these recipes or come up with one of your own let us know! Tag us on our socials @birddogwhiskey for a chance to get featured with the hashtag #birddogwhiskey.