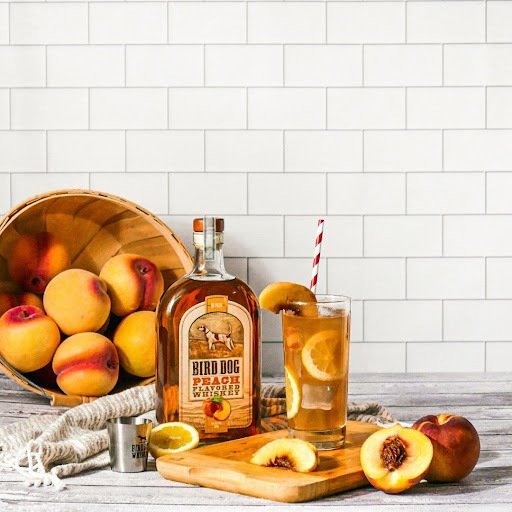 What to Mix With Peach Whiskey
What better way to salute the unofficial fruit of the South than by pairing it with some mouth-watering complementary flavors? Bird Dog Peach Whiskey, with notes of vanilla and oak undertones, is an award-winning flavor that makes a mean cocktail (and an even better peach cobbler). We're sharing easy and innovative ways for you to mix peach whiskey, both inside and outside of the kitchen.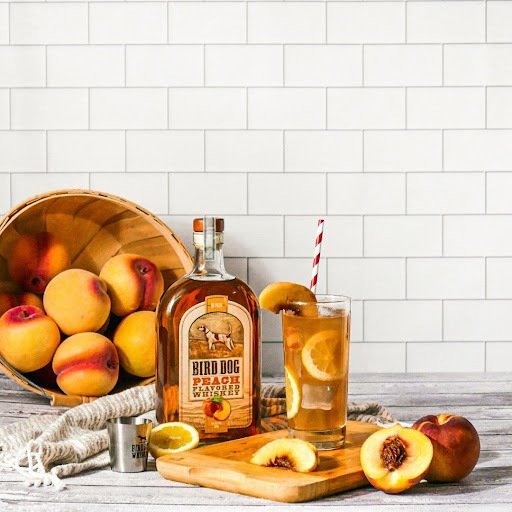 PEACH WHISKEY RECIPES
Peach can be the perfect taste partner. Don't be afraid to bring whiskey into the kitchen. These recipes can take your cooking to the next level.
BOURBON PEACH BUTTER
For a different take on a common spread, try Bourbon Peach Butter. In a large bowl, combine 14 cups (about 5 pounds) coarsely chopped peaches, 2 ½ cups sugar, 3 tablespoons Bird Dog Peach Whiskey, 4-1/2 teaspoons lemon juice, 1-1/2 teaspoons ground cinnamon, 3/4 and teaspoons cloves. Transfer to a 5-qt. slow cooker. Cover and cook on low for 8-10 hours or until peaches are very soft, stirring occasionally. Stir in 1/2 cup quick-cooking tapioca. Cook, uncovered, on high for 1 hour or until thickened. Pour into jars or freezer containers; cool to room temperature, about 1 hour. Cover and refrigerate up to 3 weeks.
PEACH SAUCE
Peach sauce is a complement to almost any dessert, especially vanilla ice cream. Add 1 bag (10 oz) frozen peaches, ½ cup of water, 1 tablespoon Bird Dog Peach Whiskey, 3 tablespoons sugar, 2 tablespoons cornstarch, 1/8 teaspoon each of nutmeg, cinnamon, and salt to a saucepan. Bring to a boil and cook for one minute. Remove from heat and add 1/8 teaspoon of either vanilla or almond extract and pour on the dessert of your choice.
BOURBON PEACH COBBLER
If you're looking for a go-to peach dessert, you can't miss with Bourbon Peach Cobbler, and this one's easy. Melt ½ cup of butter in a 13- x 9-inch baking dish. Combine 1 cup flour, 1 cup sugar, 1 tablespoon baking powder, 3 tablespoons Bird Dog Peach Whiskey, and a pinch of salt. Add 1 cup of milk, stirring just until dry ingredients are moistened. Pour batter over butter (do not stir). Bring 1 cup sugar, 4 cups peach slices, and 1 tablespoon lemon juice to a boil over high heat, stirring constantly; pour over batter (do not stir). Sprinkle with cinnamon, if desired. Bake at 375° for 40 to 45 minutes or until golden brown.
PEACH WHISKEY COCKTAILS
With it's fragrant, savory flavor, peach whiskey can transform any drink. Check out these refreshing mixes.
BOURBON PEACH SMASH
Looking for something a little spicy? Try a Bourbon Peach Smash. Add half a large diced peach, mint leaves, and ½ to 1 oz brown sugar syrup to the bottom of a cocktail shaker. Gently muddle to release the peach juices and mint oils. (Over-muddling the mint will cause it to become bitter.) Add 2 oz Bird Dog Peach Whiskey, fill the shaker with ice, and shake until well-chilled. Strain into a rocks glass filled with fresh ice. Top with ginger beer or seltzer water. Garnish with fresh mint sprigs and a peach slice.
WHISKEY PUNCH COCKTAIL
Is anything more festive than punch? Bird Dog Peach Whiskey and Blackberry Whiskey headline this unique, flavorful Whiskey Punch Cocktail. Fill a cocktail shaker with ice, then add 1.5 oz Bird Dog Whiskey, 1.5 oz Bird Dog Blackberry Whiskey, 2.5 oz. cranberry juice, 2.5 oz. orange juice, a splash of club soda, and your favorite fruit garnish.
MAI TAI PEACH COCKTAIL
The Mai Tai Peach Cocktail brings together a range of flavors—Bird Dog Peach Whiskey, spiced rum, Amaretto, and more—to update the timeless Trader Vic's recipe. In a shaker with ice add 1.5 oz Bird Dog Peach Whiskey, 1.5 oz spiced rum, 0.5 oz Amaretto, and 4 oz pineapple juice. Shake to combine then pour over ice in a glass. Splash with lemon-lime soda, then lightly pour Grenadine over the top. Garnish with a fresh fruit skewer.
Looking for more innovative ways to use peach whiskey? Check out our peach mixology here. With more than a dozen flavors available, we've got a little something for everyone—like peanut butter, salted caramel, and blackberry. Check out our flavored whiskey line-up here and find a bottle near you. If you try any of the above recipes or create your own, post your photos on social media and tag us @birddogwhiskey.